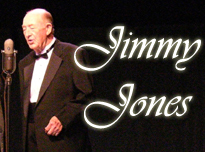 Jimmy Jones passed away on Monday, June 12, 2006 in Marietta, Georgia. Jimmy was very recently diagnosed with untreatable cancer.
Jimmy had one of the smoothest baritone/bass voices in the industry and was probably most well known, especially recently, for his recitations. His professional resume included the LeFevres and the Sunshine Boys.
In 2003, Jimmy and Eva Mae LeFevre joined Mark Fuller and me in the studio in Atlanta's Buckhead district for an evening of remembering. We went to dinner at the OK Cafe beforehand, and then, once in the recording studio, the stories and laughter flowed. Here's a clip of Jimmy talking about his recitations as well as the original recording by the LeFevres of "Lord, It's Me Again."
AUDIO>> Lord, It's Me Again (2.44MB)
I have the full unedited, raw studio session of the time with Eva Mae and Jimmy, and I'll be sharing more audio in the coming days.
-Daniel Britt
Atlanta Funeral
Jimmy Jones' funeral will be Thursday at 2p.m. at Mt. Harmony Baptist Church in Mableton, GA. Visitation will be Wednesday 12-8 at Davis-Struemph Funeral Home in Austell, GA. Burial will be in Kentucky. Jimmy was 85 years old. Due to burial in Kentucky, family has asked donations instead of flowers. Donations should be made to the Mt. Harmony Baptist Church Building Fund in Mableton, GA.
Obituary
Mr. James Edward "Jimmy" Jones, age 85 of Smyrna, Georgia died Monday June 12, 2006.
Southern Gospel legend, Jimmy Jones was born in Scottsville, Kentucky on February 5th, 1921, and lived there on a farm with his 10 siblings until leaving for the military in 1943. After his discharge from the Army in 1944, he left Scottsville to pursue a music career, and eventually moved to Atlanta, Ga. In the early 50's, forming the Deep South Quartet, Jimmy appeared on the Jimmy Dean television program, and is best remembered for his years with the LeFevres, particularly for his recitations on the Poetry Corner segment of the Gospel Singing Caravan television show.
Survived by:
Step-Son – Wayne Renshaw of Smyrna, Ga.
Brother - Vesper Jones of Scottsville, Ky.
Sisters – Kate Cole of Russellville, Ky.; Mary Woodward of Scottsville, Ky.
Funeral Services well be held Thursday at 2:00 pm with the body instate at 1:00 pm at Mt. Harmony Baptist Church in Mableton, GA. Rev. Bob Baxter officiating. The family will receive friends Wednesday 12:00 pm until 8:00 pm at Davis-Struemph Funeral Home, Austell, Ga. Flowers accepted or memorials may be made to Mt. Harmony Baptist Church, Building Fund, 561 Veterans Memorial Hwy, Mableton, Ga. 30216. Additional Funeral Services will he held Saturday 2:00 pm at Mt. Union United Methodist Church in Scottsville, Ky., with burial to follow. The family will receive friends on Friday from 12:00pm until 9:00pm and Saturday 7:00 am until 1:00pm at T.W. Crow Funeral Home, Scottsville, Ky.